Sequentially "Welcome to Japan-Omotenashi" Club  (WJO Club) will introduce Japan's beautiful sights and how to enjoy.
---
The Itsukushima Shrine is known worldwide for being built over water. The shrine and its torii gate are unique for seemingly floating in the sea during high tide. The shrine complex consists of multiple buildings, including a prayer hall, a main hall and a noh theater stage, which are connected by boardwalks and supported by pillars above the sea.
In 1168, Taira no Kiyomori, the most powerful samurai in the late Heian Period, selected the island as the site of his clan's family shrine and built Itsukushima Shrine. All of the buildings burned down as the result of two fires.
For this reason, the current remaining buildings were built after the year of the Ninji year (1240 – 1243).
Registered for World Heritage in 1996.
Tourists' comments
The shrine going by ship is like a time machine somehow.
There are many deer. Here is a different space.
The torii is in the sea! How did they build it?
---
Saihoji Temple
In 1994, Kokedera (official name is Saihoji) was registered as a UNESCO World Cultural Heritage site as one of the 17 Historic temples, shrines and castles in the ancient city – Kyoto, together with the Kiyomizu Temple and the Kinkakuji Temple.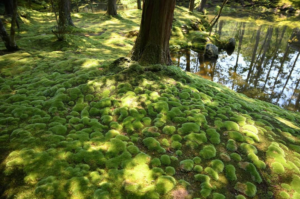 About 120 kinds of moss(koke) covered inside the garden, it is called Kokedera Temple from the beauty like spreading green carpet. About 30,000 square meters of gardens enjoy a beautiful landscape throughout the year. Especially during autumn leaves season the trees in the garden and the exquisite contrast between the moss will take away the eye.
Worship procedure
Preliminary application is necessary for worshiping.  An applications can be written preferred worship date in round-trip postcard (or postal mail for visitors from abroad), but you can not hope for time.
As the number of visitors increased, "the tourist pollution" started to become a problem. In order to keep the original religious atmosphere and let visitors pray in peace, instead of blindly increasing tourists, from 1977 Saihoji Temple decided to implement a small-group visiting system with pre-reservation and participate in religious rituals at the Hondo, before reaching the garden.
---
---